ARTEMIS: IN REAL TIME
MAY 5, 2023 Release
"Music exists in time. Without time, there is no music," explains pianist, composer, and bandleader Renee Rosnes about In Real Time, the sophomore album from ARTEMIS. "Photographs and works of visual art are frozen time. Music is liquid time in air."
Three years after the release of ARTEMIS' critically acclaimed self-titled debut album, the ensemble returns with a brilliant follow-up that highlights the improvisational strength of its members as well as their respective gifts as composers. The new album showcases Rosnes, trumpeter Ingrid Jensen, bassist Noriko Ueda, drummer Allison Miller, and newcomers—tenor saxophonist Nicole Glover and multi-reedist Alexa Tarantino. 

"ARTEMIS has been a powerful and affirming experience for me," Glover says. "I feel total empathetic support and the freedom to be as adventurous and creative as I can imagine with this band." "There's a striking juxtaposition between the stylistic approaches of the two saxophonists," Rosnes enthuses. "Each one illuminates the other." In both new members, Rosnes hears a strong sense of history and originality in their respective playing. In Glover, she detects the influences of such icons as John Coltrane, Joe Henderson, Eddie Lockjaw Davis, and Charlie Rouse. "Nicole has developed her own distinctive sound. She's the type of improviser who loves to jump into the deep end of the pool," Rosnes says while adding that "Alexa has a rich, purposeful tone on all of her instruments, and a special gift for creating lyrical melodies."

Of course, when talking about the creative strength of ARTEMIS' horn section, one cannot leave out the prowess of Jensen, who for the past three decades has proved to be one of jazz's most singular trumpeters. "Nobody sounds like Ingrid. She really knows how to pollinate the music with her choice notes," Rosnes attests. "Playing with Nicole and Alexa is a blast," Jensen adds. "The high level of listening and give and take make for the most joyful of frontline experiences."
ARTEMIS' rhythm section, consisting of Miller and Ueda, is equally intrepid. Rosnes says, "There is a great pliability between the three of us." For almost two decades, Miller has revealed herself to be a consummate drummer, capable of steering ensembles of varying styles and instrumentation. Japanese born Ueda is a profoundly virtuosic bassist whose playing is organically connected to all musical environments. She has also proven herself to be a highly skilled composer and arranger.

But it's Rosnes, who serves as musical director and pianist, that brings the most experience to the band. Rosnes debuted on Blue Note in 1990 and released an extraordinary run of solo albums on the label throughout the decade. Before that, she was a member of Blue Note's all-star ensemble Out of the Blue, and she's performed with an impressive list of jazz titans throughout her career including Wayne Shorter, Joe Henderson, Bobby Hutcherson, J.J. Johnson, James Moody, and Ron Carter.

Before recording In Real Time, ARTEMIS had a week-long residency at New York's Birdland club at which the band introduced many of the compositions on the album. "From night to night as we explored the possibilities, the music morphed and grew," Rosnes recalls.

In Real Time opens with "Slink," a labyrinthine composition written by keyboardist Lyle Mays, who was best known for his work with guitar legend Pat Metheny. Rosnes' arrangement of the piece contains rich layers of flute, Rhodes, piano, and voice.
The album continues with Miller's rumbling, modal "Bow and Arrow," which harkens back to prior eras of Blue Note Records thanks to its infectious rhythm and hooky melody. "Our recorded performance of the piece showcases the band's evolution, and how much we love to play with one another," Miller says.
While explaining the compositional process of her transfixing ballad, "Balance of Time," Rosnes says she trusted the initial melodic cell and allowed the inspiration of that phrase to guide her into the next development. "Composing is improvisation but with the luxury of time and an eraser," she adds. "So the process itself is a balance of time."

Witnessing a meteor shower on a small, isolated island in upstate New York inspired Ueda's prancing, "Lights Away From Home." "I made a sketch of the piece the next morning while sitting on the same rock where I saw the shooting stars, remembering the excitement of the experience," Ueda recalls. "My aim was to write something with a positive, upbeat vibe."
Jensen composed the evocative "Timber," which she explains is a doubled-sided composition. The brighter side conveys a direct relationship to the earth and forestry, while the darker side involves the loud yell lumberjacks belt after they cut trees to their death in the forest. "I wrote this on the Sunshine Coast in British Columbia, where my mother's side of the family live," Jensen says. "There were two pictures above the piano I was working at, both depicting proud loggers standing amidst a barren forest floor filled with recently slain cedar and fir trees."
On Tarantino's protean waltz, "Whirlwind," she opted to play the flute."The energy of the piece is meant to ebb and flow like its title," Tarantino says. "I love how the rhythm section flows freely under the horns during the opening section as well as the blend the horns achieve on the melody with the flute acting as an echo."
In Real Time also features a remake of Rosnes' thrilling "Empress Afternoon," an intricate, fast-paced composition that first appeared on her 2002 Blue Note album Life on Earth in a version that featured stunning tabla work by Zakir Hussain. "Allison studied tabla during her time in college, and has a real affinity for Indian music," Rosnes says, "so I thought about revisiting this piece and rearranging it for the band. Of course, she puts her own stamp on it."

The album concludes with an impassioned rendering of Wayne Shorter's ballad, "Penelope," which was first featured on his 1965 Blue Note recording Etcetera. ARTEMIS' version, arranged by Rosnes, provides a showcase for the opening freeform duet of muted trumpet and piano moving into Glover's vaporous tenor saxophone passages. Rosnes explains, "Wayne's melodies sound inevitable. There's an emotional weight to every melodic and harmonic choice," she says. "We all look to him as a guiding light and courageous creator."

"The new album is an authentic representation of the collective and the individual," Miller says. "Our growth as a band is clear from the downbeat. There is a trust that has become more solidified since our first recording and the chemistry is palpable. Simply put, we sound like a band!"
Add text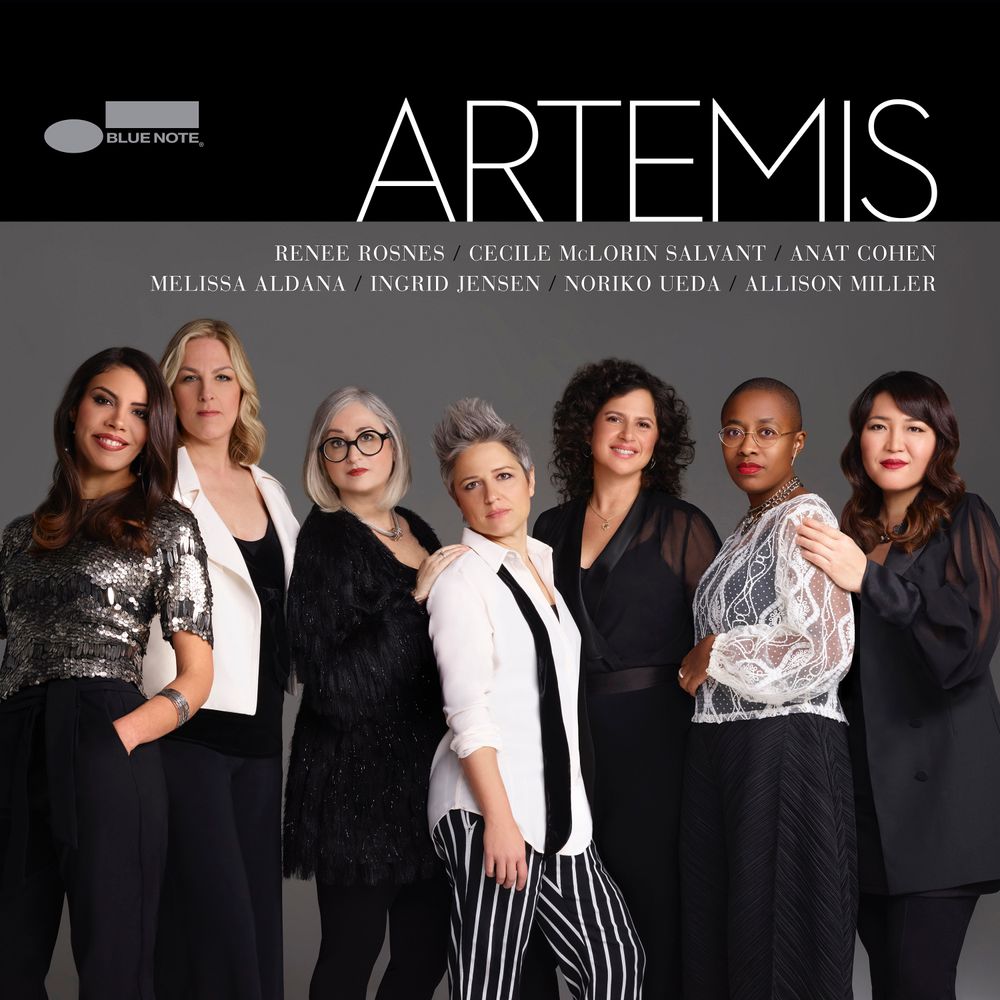 ARTEMIS (BLUE NOTE)
1. Goddess Of The Hunt (Allison Miller) 
2. Frida (Melissa Aldana) 
3. The Fool On The Hill (John Lennon/Paul McCartney, arr. by Ingrid Jensen) 
4. Big Top (Renee Rosnes) 
5. If It's Magic feat. Cécile McLorin Salvant (Stevie Wonder, arr. by Renee Rosnes) 
6. Nocturno (Anat Cohen, arr. by Anat Cohen and Renee Rosnes) 
7. Step Forward (Noriko Ueda) 
8. Cry Buttercup Cry feat. Cécile McLorin Salvant (Rocco Accetta/arr. Renee Rosnes) 
9. The Sidewinder (Lee Morgan, arr. by Renee Rosnes)
RENEE ROSNES, piano
CECILE McLORIN SALVANT, vocals
ANAT COHEN, clarinet, bass clarinet
MELISSA ALDANA, tenor saxophone
INGRID JENSEN, trumpet
NORIKO UEDA, bass
ALLISON MILLER, drums
EXECUTIVE PRODUCER, TED KURLAND
PRODUCED BY RENEE ROSNES
Music
0:00/6:11

0:00/5:01

0:00/6:12

0:00/7:24

0:00/3:27

0:00/6:25

0:00/5:27

0:00/5:05

0:00/5:29

0:00/7:20

0:00/4:51